Discover our stunning beachfront properties, each offering a unique blend of luxury, romance, and captivating natural beauty. Whether you're planning an intimate getaway or a dream destination wedding, each property provides the oasis to revel in the ultimate paradise. From the laidback luxury at Coco Beach Resort to the relaxing charms of Belizean Shores, the elegance and privacy attributes of Belizean Cove, and the romantic seclusion of Costa Blu, immerse in your dream vacation. Find your getaway to a memorable experience in Belize.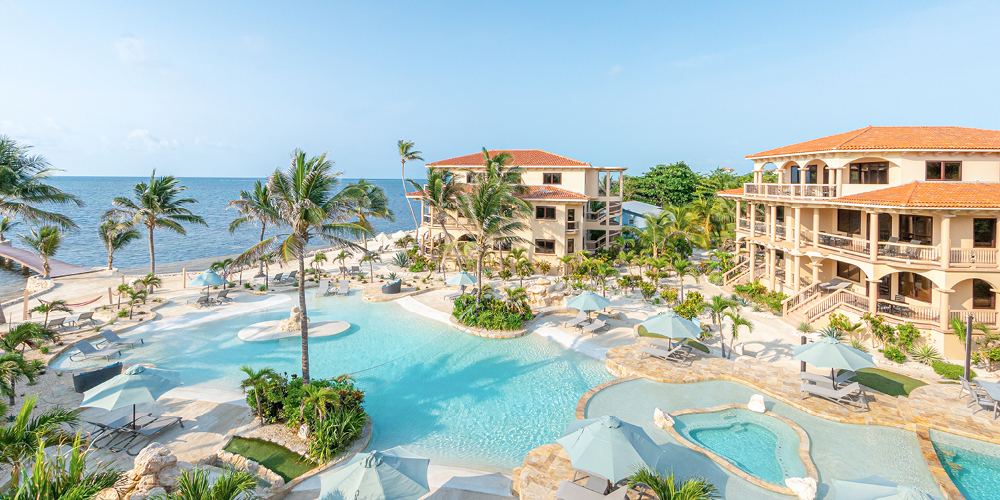 Experience your wedding in a romantic setting and barefoot luxury at Coco Beach Resort, one of our sought-after wedding destinations near San Pedro Town. This  beachfront resort offers a captivating blend of tropical relaxation, intimate moments, and laid-back adventures. Whether you seek a tranquil romantic getaway or a gathering with family and friends, Coco Beach Resort provides a range of room categories to accommodate you.
Location: Situated 3.5 miles north on Ambergris Caye, Coco Beach Resort offers a secluded paradise away from the hustle and bustle of town while still offering access to the vibrant island atmosphere.
Accommodation: With 62 rooms spread across 16 buildings, find the perfect sanctuary for your stay. Choose our luxurious honeymoon casitas, designed for couples seeking a romantic escape, or opt for our spacious one and two-bedroom accommodations, providing ample space and convenience for accommodating your family and friends.
Pool Paradise: Dive into laidback relaxation at Coco Beach Resort's two large outdoor free-form swimming pools. Take a dip, soak up the sun, or unwind in the inviting in-pool hot tub surrounded by astounding landscapes.
Swim-up Pool Bar: Sip your favorite tropical concoction without leaving the pool. Our swim-up pool bar offers a convenient and refreshing oasis, providing a delightful experience of indulgence and relaxation.
Culinary Delights: Indulge your taste buds at Cocoblanca, our onsite restaurant. Discover a delectable fusion of flavors featuring locally sourced ingredients and inspired international cuisine prepared by our talented culinary team.
Pampering Haven: Immerse yourself in blissful tranquility at Sparadise, our onsite spa. Feel refreshed and renewed with rejuvenating treatments and soothing massages.
At Coco Beach Resort, your love story and barefoot luxury harmoniously create an unforgettable wedding experience.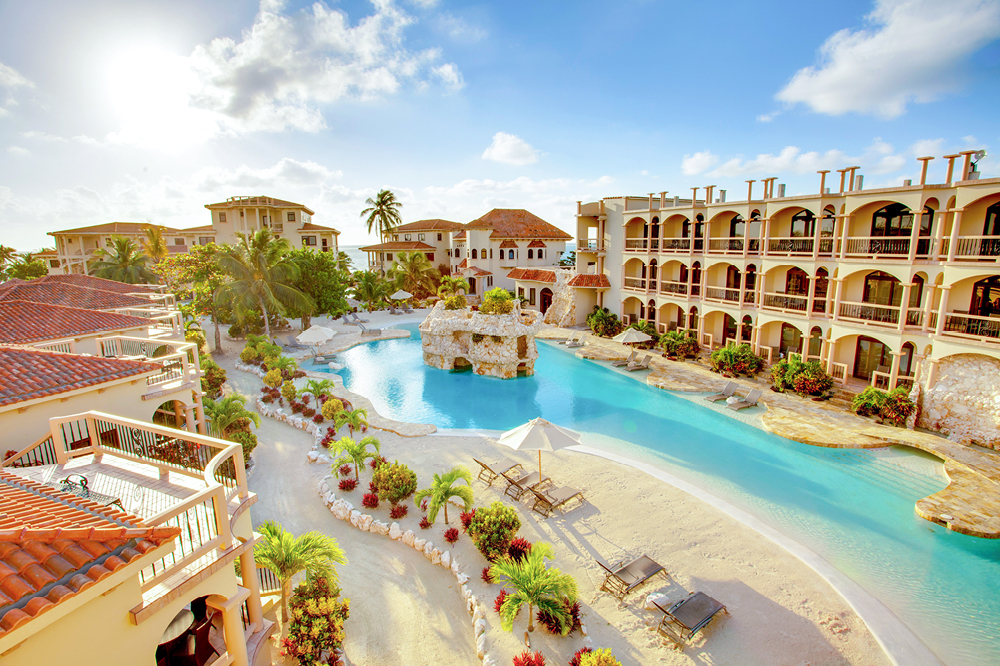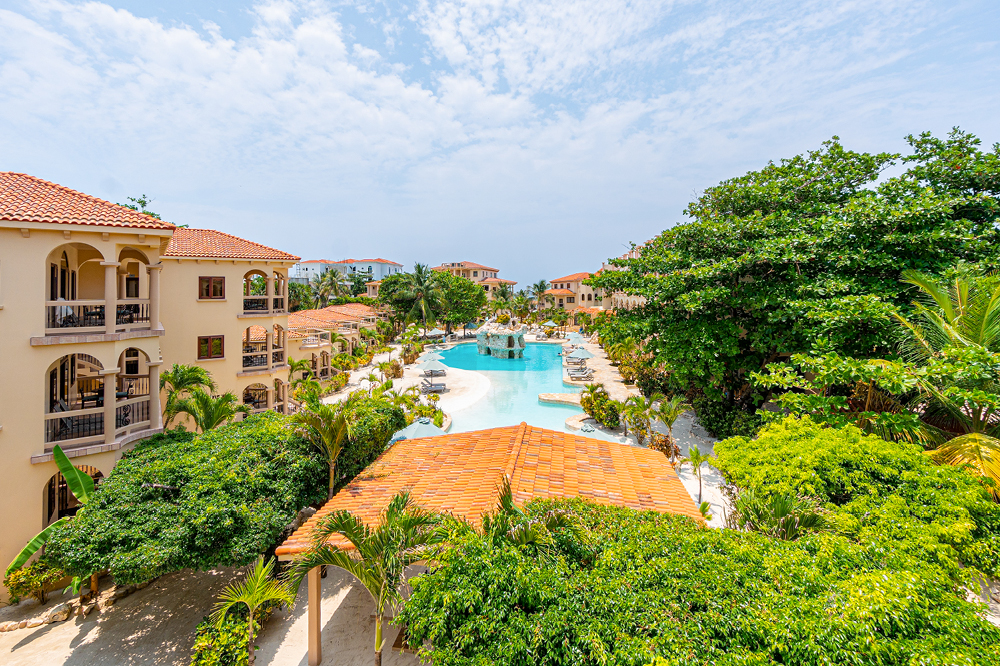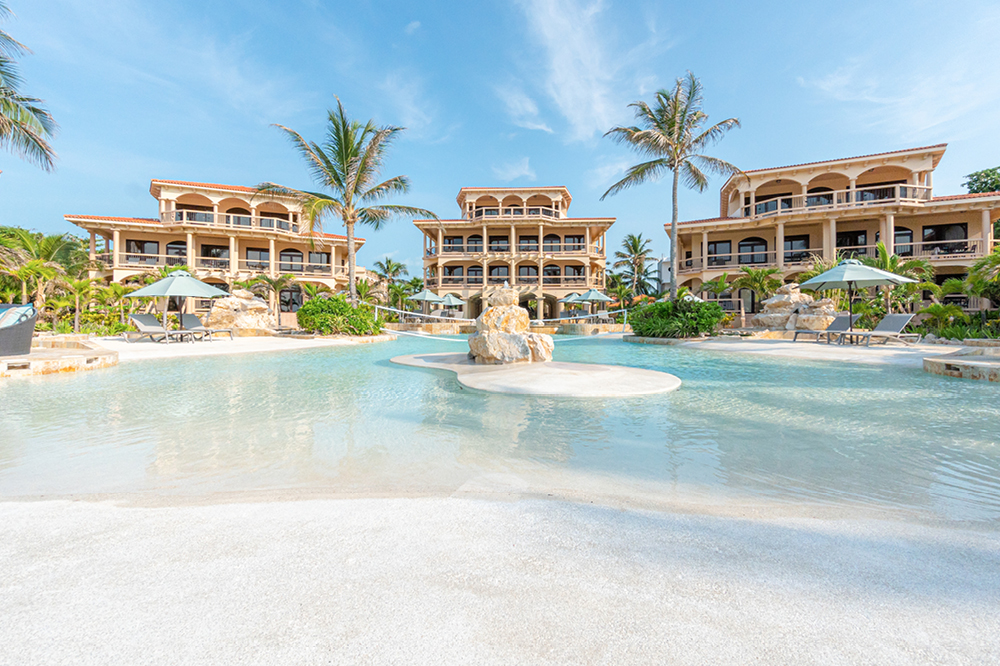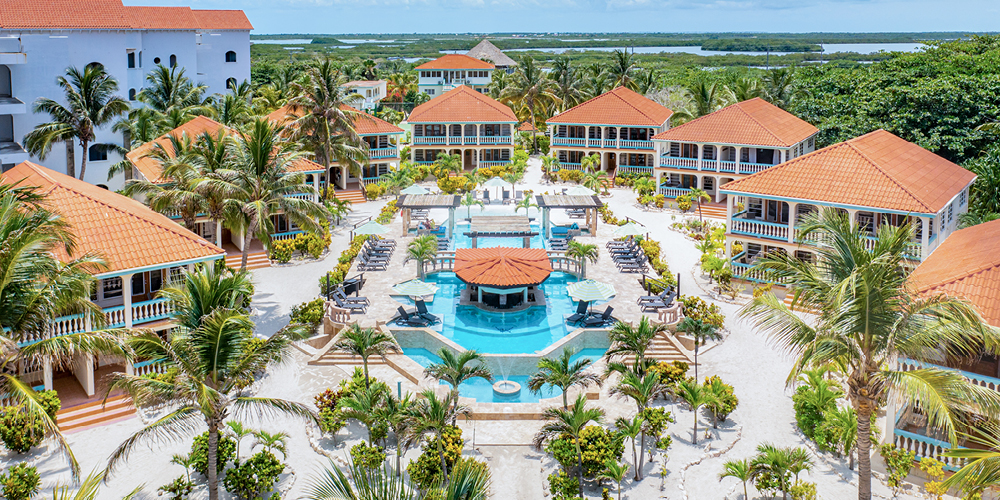 Immerse your wedding experience in the original island charm at Belizean Shores Resort, the very first resort introduced by Sandy Point Resort. This delightful and affordable vacation resort offers an idyllic beachfront experience. It is the perfect destination for those seeking a peaceful island oasis while still being just a short golf cart ride away from the vibrant sights, sounds, and flavors of San Pedro Town. Feel welcome to a charming and relaxing tropical atmosphere, from swaying coconut palms, beach hammocks and mesmerizing Caribbean Views. With its serene setting and spectacular vistas from almost all angles, this resort is a beloved choice among vacationers seeking tranquility and natural beauty.
Location: Nestled 3.5 miles north of San Pedro Town on the island of Ambergris Caye, Belizean Shores Resort offers a convenient yet peaceful beachfront getaway.

Suites: Choose from 48 rooms spread across 12 buildings, providing options to suit your needs, whether you're seeking a romantic escape or spacious accommodations for family and friends.

Pool: Enjoy the refreshing waters of the outdoor saltwater pool, complete with a swim-up pool bar. Take a dip, lounge by the poolside, and soak in the tropical ambiance of your setting.

In-pool Jacuzzi Hot Tub: Indulge in ultimate relaxation after a long day. Soothe your senses as you bask in the warm waters and stunning surroundings.

Food Options: Experience a culinary journey at the food court across from Belizean Shores and convenient food delivery from Cocoblanca, the restaurant located at Coco Beach Resort. 

Pool Bar: Unwind with refreshing drinks at the pool bar. Sip on your favorite beverage as you soak up the sun-kissed days amidst a relaxing atmosphere.

Tour/Diving Center: Discover the wonders of Belize with ease. Belizean Shores Resort offers convenient tour and diving services, allowing you to explore the captivating natural beauty above and below the water's surface.
Embrace your love story in a delightful tropical atmosphere with awe-inspiring views of the Caribbean entwining charm and tranquility to create your perfect wedding backdrop.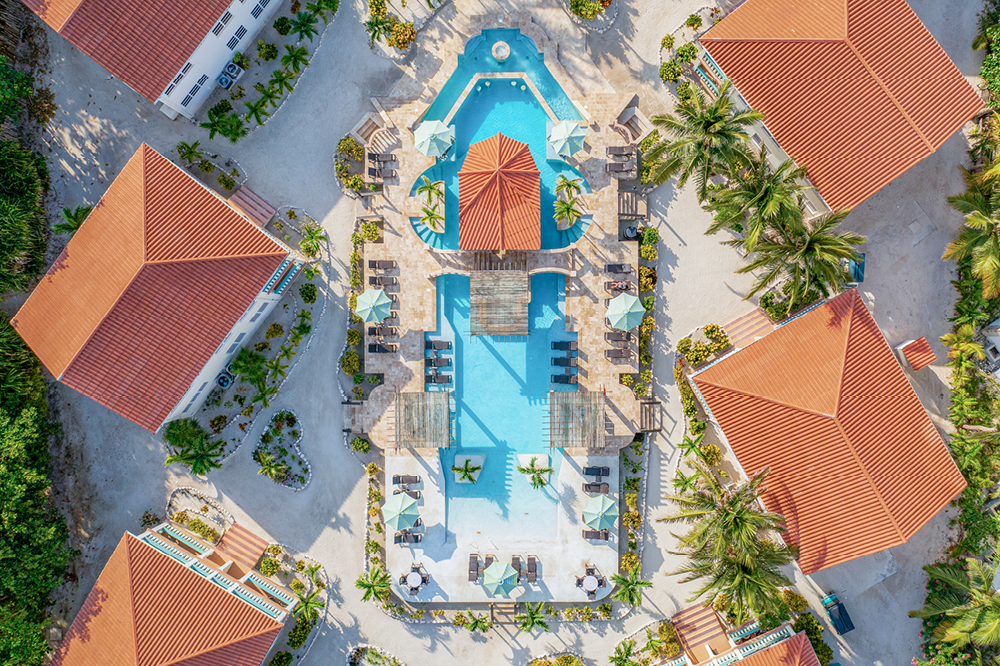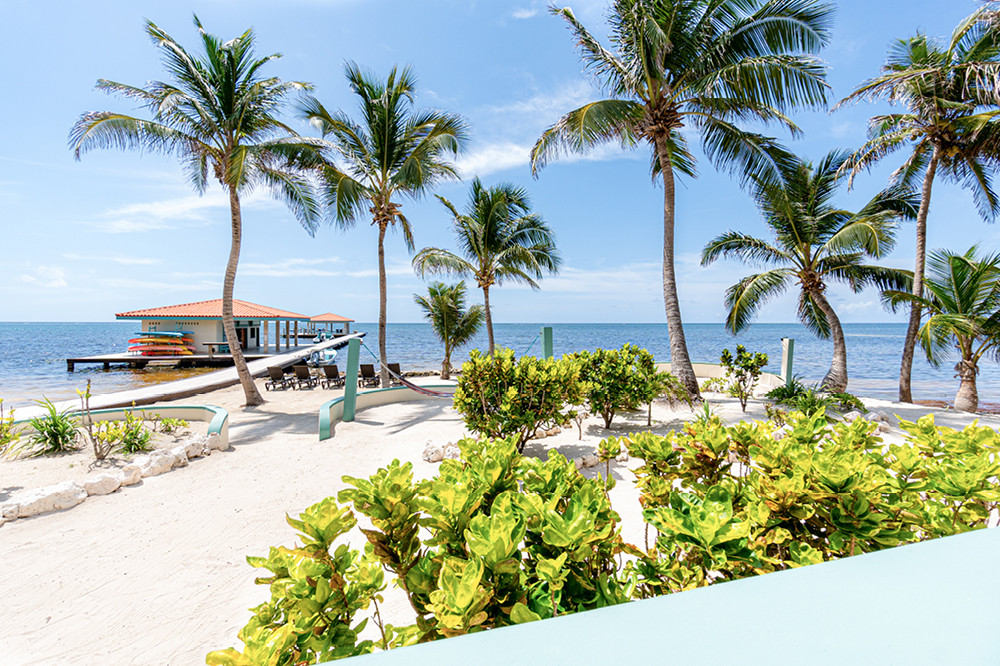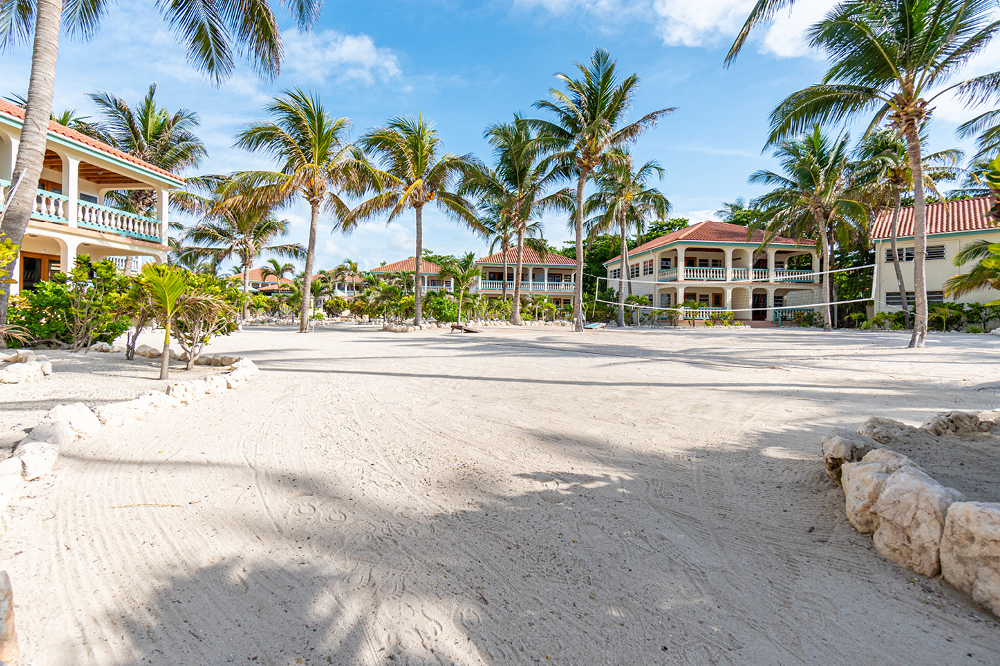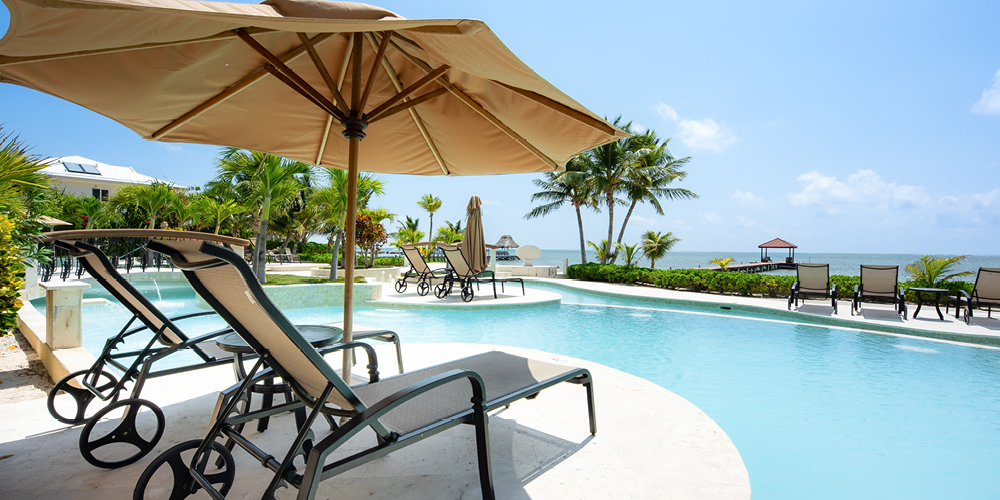 Belizean Cove Estates boasts elegant decor, each with its unique style. With the flexibility to rent one, two, or three bedrooms, Belizean Cove Estates is the perfect destination for an intimate honeymoon, a memorable family vacation, or a small group wedding.
Revel in meticulously designed condos with marble floors, indulge your culinary desires in the fully equipped gourmet kitchen, and unwind in the spacious living and dining areas. Breathtaking views of the Caribbean Sea from your private balcony enhance your stay in the beauty of beachfront surroundings.
Exclusive Beachfront Location: The villas are located directly on the beach, providing direct access to the beach.

Custom Designed Saltwater Pool: Delight in the 175-ft beachfront saltwater pool, offering a serene and refreshing oasis.

Relaxing Hot Tub: Unwind and rejuvenate in the in-pool jacuzzi hot tub, adding a touch of luxury to your stay.

Complimentary Water Sports: Take advantage of complimentary sea kayaks and paddleboards (SUP), allowing you to explore crystal-clear waters at your leisure.

Convenient Bicycles: Enjoy complimentary bicycles for easy transportation and the opportunity to explore the surrounding area.

Unique and Individually Decorated Villas: Each villa boasts distinctive decor and floor plan, ensuring a personalized and memorable experience.

Gourmet Kitchen: Prepare culinary delight in your villas' gourmet kitchens, featuring granite countertops and top-of-the-line appliances.
Celebrate your wedding in the allure of Belizean Cove, where luxury, privacy and natural beauty converge to create cherished memories for a lifetime.