How to Pick a Belize Honeymoon in 5 Easy Steps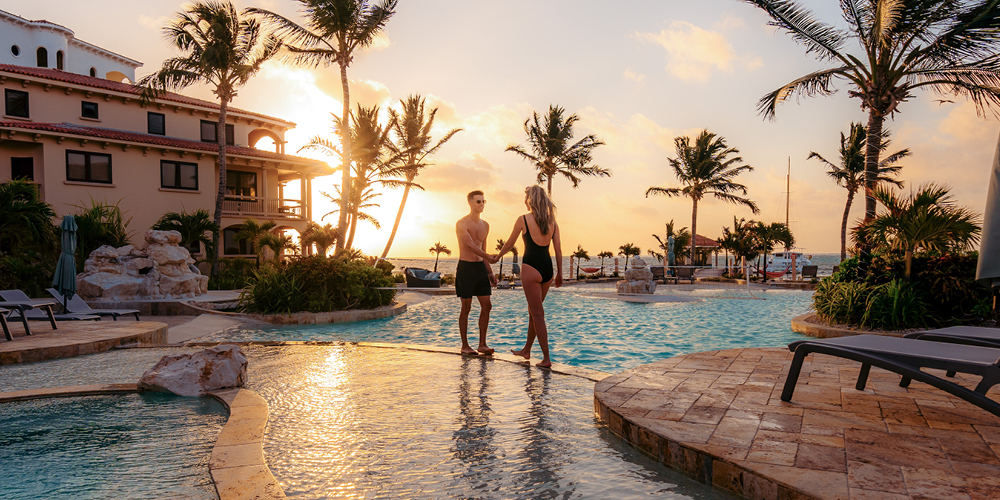 Belize is a popular honeymoon destination and it's easy to see why. With many travel hubs throughout North America, you can be relaxing on your beach honeymoon in Belize in just a few hours. With the largest barrier reef in this hemisphere, warm weather year-round and fantastic beach resorts, you are sure to have the trip of a lifetime. Though the country is small in size, there are many different honeymoon choices. To make it easy to find your dream Belize honeymoon, follow these five easy steps. Happy honeymooning!
Step 1 – Pursue the list of beach destinations
Belize is widely known for its barrier reef.  But the coast also boasts some great beaches and charming towns to choose from for your honeymoon.  Ambergris Caye, Caye Caulker, Turneffe Atoll, Hopkins Town and Placencia Town are the top destinations for a beach honeymoon in Belize.  Ambergris Caye is north of Belize City and the largest island in Belize, chock-full of fine dining and resorts.  Caye Caulker is just south of there and has a relaxed island feel.  Turneffe Atoll has great tiny islands and even greater fishing and diving opportunities.  Hopkins Town is in the south of Belize and is a Garifuna village full of sandy beaches and rich culture.  Placencia Village is on a long southern peninsula with a boardwalk full of shops, restaurants, and resorts with a wide sandy beach.  For more details on these five popular beaches, click here.
Step 2 – Plan the time of year for your honeymoon
You'll want to think about the type of weather you're hoping for and also how busy the time of year is. Depending on your preferences, you might like to travel during a slower time of year when there are no crowds, or you might want to have a lively nightlife scene and the chance to mingle with lots of other travelers. Luckily, Belize all but guarantees warm sunny weather no matter when you travel. The green season is June-November, though there are often great stretches of perfect weather.
Step 3 – Think about the scenery
Your honeymoon is bound to have many photo ops. Make sure you have a great natural backdrop! A great way to see what other travelers are loving is to follow the Belize Tourism Board's travel hashtags on Instagram. #visitbelize and #bztravelpics will bring up tons of photos for you to peruse. Tag your pics with the same hashtag for a chance to be featured on their page as well. The blues of the Caribbean Sea, coconut palms and vibrantly-colored buildings are par for the course at just about all of the beach destinations in Belize. Happy snapping!
Step 4 – Vibe at your destination
Are you looking for total relaxation? Fast-paced adventures? Romance? Talk with your partner about what kind of trip you both want and go from there. Within each beach destination, there is a wealth of resort accommodations for just about every travel style. Up the romance factor with couple's massages on the beach, a sunset catamaran sail or a private dinner for two under the stars. Tropical island luxury is easily found. Belize is generally a casual country, flip flops and beachwear can go a long way, although if you'd like to dress up and have a fancy dinner out you can find that too.
Step 5 – Check out the activities available
The onsite amenities at your chosen resort can play a big role in how your honeymoon plays out. Complimentary SUP boards and kayaks mean you can easily explore the coast with your sweetie, while bicycles let you tour the island and bar hop easily. The overall location of your resort can factor into what excursions are easily available. For a focus on marine activities like snorkeling, diving and sail sports, it makes sense to stay on an island. Jungle tours, cave tubing, and Maya monuments are also easily done via day trips from just about any beach destination.